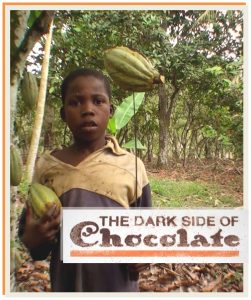 آیا تا به حال موقع خوردن شکلات به این فکر کرده اید که این شکلات از کجا آمده است؟ آیا همه افراد که در زنجیره تولید و توزیع این شکلات بوده اند از این فرآیند لذت برده اند؟
مستند The Dark-side of Chocolate به بررسی بردگی و قاچاق کودکان برای کار در مزارع شکلات ساحل عاج و غرب آفریقا که ۶۹ درصد کل شکلات جهان را تولید می کند و سکوت بزرگترین تولید کننده گان و توزیع کننده گان شکلات (مثل Nestle) در باره این موضوع می پردازد. سکوتی که به قیمت جان بسیاری تمام می شود. و ذکر این جمله که فکر می کنم از امام علی (ع) است خالی از لطف نیست:
هیچ ثروتی در جایی انباشته نمی‌شود، مگر اینکه حقی در کنار آن از بین رفته باشد!
متاسفانه لینک دانلود مستند در وب سایت های ایرانی وجود نداشت. اما می توانید مستند را در یوتیوب مشاهده کنید.
برای آگاهی از پست های بعدی می توانید در کانال تلگرام وبلاگ عضو شوید.
برای عضویت در کانال وبلاگ اینجا کلیک کنید